2018Paris Symposium
Hôtel Potocki
27, avenue de Friedland
8th arrondissement
Paris, France
Co-Sponsored by: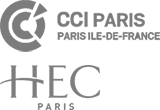 International Roundtable Symposium on Cross-Border European M&A
跨国投资及并购国际论坛
The International Institute for the Study of Cross-Border Investment and M&A held its eighth Symposium on current issues in international cross-border mergers, acquisitions and strategic investments, with a particular focus on cross-border European M&A; foreign acquisitions into Europe from the U.S., China and other markets; acquisitions by European companies outside of Europe, in both emerging and developed markets; and intra-European cross-border M&A.
The Symposium represents an effort by its founding Universities, New York University, Peking University and University of Cambridge, and affiliated professionals and companies, to foster dialogue and connections among the world's leading experts and thought leaders about key issues, trends and developments in the global deal markets. The goal is to encourage pragmatic, de-politicized analysis and study of the market dynamics that fuel business expansion through cross-border M&A, and of the financial, legal, governmental and societal frameworks that facilitate or hinder such activity.
The Symposium is open only to invited participants. The roundtable format is designed to encourage participation by all attendees.